Member Bios
Saxophones | Trombones | Trumpets | Rhythm | Vocals
Saxophones
Paula Cebula - Alto Sax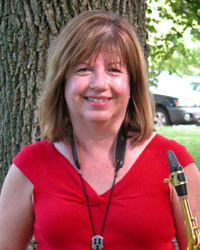 Paula has been playing saxophone on the jazz scene for the past seven years, having trained as a classical saxophonist. She is the founder and soprano sax player in the "No Strings Attached" saxophone quartet performing throughout the Chicagoland area as well as at the Maastricht Festival in the Netherlands. Paula's latest educational accomplishment is the completion of a Masters in Music degree in 2004 which, coupled with an MBA in marketing, serves her in her position as manager of New Philharmonic orchestra and DuPage Opera Theatre. Continued inspiration comes from participating in master classes with some of the greats - Phil Woods, Nick Brignola, Ralph Lalama, and Ernie Watts - and studying with local greats Mark Colby and Stephen Duke. Paula's musical calendar also includes private studio instruction of saxophone and clarinet, as well as performing in pit orchestras for local theaters, concert bands, small jazz combos, percussion ensembles, and flute choir.
Kelley Dorhauer- Alto Sax
Linda Kottis - Tenor Sax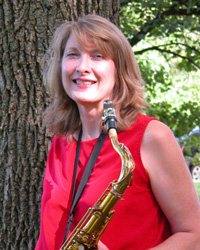 Linda is a co-founder of the Chicago Outskirts and plays tenor sax. After several years away from playing jazz, she could not take it anymore, and began playing with the Warrenville Moonlighters and studying with Mark Colby. Linda subs with the Wheaton MusicMakers and has appeared with the College of DuPage Arts Center Jazz Ensemble and the Swing Street Big Band. She is active at the College of DuPage's jazz combo program and has appeared numerous times at the College's Jazz at Sunset as well as with small combos professionally.
Meredith Roche - Tenor Sax
Martha Lambert - Baritone Sax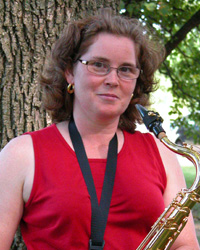 Martha Lambert plays Tenor Sax and Bari Sax for Chicago Outskirts. She also plays keyboards. Her recent music courses were at College of Dupage, with Tim Omerod, and Skip Green as her private teachers. She also learned jazz the traditional way, by playing in various community bands with the "old-timers" that demonstrate and explain the era's style. Workshops with the Three Rivers Saxophone Quartet in the Pittsburgh PA area, and the Weekend Program with Berklee School of Music in Boston MA, and The Fox Valley (IL) Chapter of the American Guild of Organists continue her performance training.

Martha's musical mission: "I think music has the power to develop a focused mind and promote world peace. You can't fight with people when you are practicing scales on your horn. I think live music performance is an art that brings beauty to an otherwise stressful and edgy world - for players and listeners."
Trombones
Karen Mari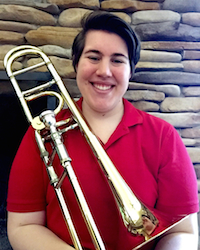 Karen Mari picked up a trombone and never looked back. A 2015 graduate of the Indiana University Jacobs School of Music, Karen is into listening, experimenting, and making things up. Her first love will always be tenor trombone, but bass trombone and euphonium frequently work themselves into her life. Playing multiple instruments has allowed her to explore a wide range of ensemble settings and styles, including orchestral, jazz, theatrical, chamber, and solo playing. Karen has performed in venues from living rooms and black box theaters to a 17th century Viennese palace and Chicago's own Orchestra Hall, both alone and in ensembles of 2 to over 300. Though she is active as a performer, Karen's true passion is music education. She has taught privately in both the Bloomington and Chicagoland areas, volunteers regularly at the Merit School of Music, and student taught in the Chicago Public Schools. Karen was an avid vocalist in a past life, and her experiences with choral approaches to music have dramatically impacted her performing and teaching ideologies. She spent a semester studying music, history, and art in Vienna, Austria, an opportunity that opened her playing up to a wide range of European influences. Karen blends this vocality and Viennese instruction into a style of trombone playing that, when combined with experience and a hearty Midwestern education, is both adaptive and engaging. In the rare moments not spent pursuing some musical end, Karen can be found cooking outlandish meals, listening religiously to NPR, and fighting with technology.
Hannah Martens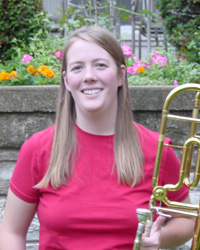 Hannah has been playing trombone in jazz bands, concert bands and orchestras since junior high. At Hoffman Estates High School, Hannah played in the wind ensemble, marching band, jazz ensemble, orchestra and pit bands for musicals and the yearly variety show each of her four years. Her senior year, she was Co-director of the Variety Show pit band. She also played in the District 211 Honors Orchestra for two years and the IMEA District 7 Orchestra one year. Hannah has also played with the Schaumburg Youth Symphony Orchestra and still subs for them on bass trombone from time to time. She has traveled to Germany, Austria and Japan with the SYSO. Hannah graduated from Marquette University with a bachelor's degree in Civil Engineering. While at Marquette, she played in the concert band, orchestra and pep band under the direction of Nicholas Contorno and the late Jim Krofta, in addition to brass quintets, a big band and a punk/ska band. She has also played with the Nick Contorno Orchestra (professional jazz big band). Most recently, Hannah has taken jazz ensemble and theory classes at the Old Town School of Folk Music with David Jennings. In addition to the Chicago Outskirts, Hannah is beginning her fifth year as a member of the Chicago Businessmen's Orchestra where she also serves as Vice President of the board. Hannah loves playing trombone in any way, shape or form, and especially loves the fun and excitement of playing jazz and blues music. In her professional life, Hannah is a senior engineer and project manager for Lintech Engineering, where she is involved in water and wastewater treatment plant design and rehabilitation, and serves as Assistant Village Engineer for the Village of Pingree Grove. She loves civil engineering almost as much as she loves playing music!
Amber Love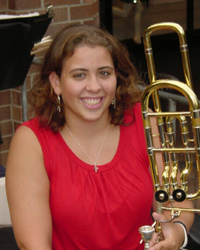 Amber Love is currently a first year student at Waubonsee Community College studying Music Education. She is currently playing lead in the Jazz Ensemble at WCC. At Oswego East High School Amber played trombone in Wind Symphony, Jazz Band, Marching Band, Pep Band, and Pit band. Amber also played tuba in the Wind Ensemble and Symphonic Band. Amber's interest in Jazz first grew from attending the Birch Creek jazz sesions in Egg Harbor, WI. The past years Amber has been able to grow in her skills as a player and become a better musician. After college, Amber plans to keep performing and teach music.
Trumpets
Sandy McCurdy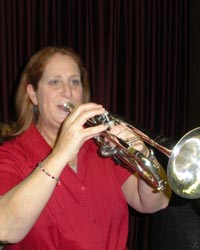 Sandy is a native of Chicago and has been playing trumpet for over 40 years, both in classical and jazz genres. As lead trumpet in the award winning Maine East High School Jazz Band, Sandy was selected to the All-Star Band at the legendary Oak Lawn Jazz Festival in the 60's. During that time she also began trumpet studies with Vincent Cichowicz of the Chicago Symphony. At Downbeat's National Stage-Band Camp, Sandy met jazz legend and teacher David Baker and was invited to attend Indiana University where she played lead trumpet in the jazz band. While at I.U. she was was honored to be chosen as the first female student of the legendary Bill Adam. After receiving a Bachelor of Music Education Degree from Indiana University, Sandy moved to Montreal where she played in the Nick Martin Jazz Ensemble at the Queen Elizabeth Hotel, did free lance and studio recording work, and played for the 1976 Olympics. Sandy received her Master of Music degree at Northwestern University in Chicago where she continued as a trumpet student of Vincent Cichowicz. Highlights of Sandy's classical music career include years as Principal trumpet of the Victoria Symphony and Principal Trumpet with the Royal Winnipeg Ballet Orchestra. She was named Associate Professor of Trumpet at the University of Victoria in British Columbia and Department Head of Music at Port Arthur Collegiate High School in Thunder Bay, Ontario.
Andrea Lanctot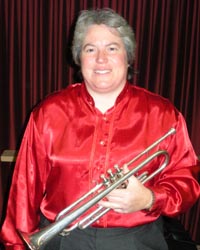 Trumpet/Voice/Flute/Arranger/Director of Brass, has been an active performer in the Chicago Latin music scene for the past twenty years, and one of the first female, non-hispanic trumpeters to break onto that scene. She has played with Samuel de Real, Carpacho y su Supercombo, Silvio Sosa, Orquesta Sabor, Freddy Kenton, Grupo Miel, Orquesta Arabu, and Papo Sanchez y su Fuerza y Alma, just to name a few, and has backed up such Latin artists as Dominic, Orquesta de la Luz, Van Lester and Huey Dunbar. She has also played numerous wedding ceremonies at various churches in Chicago and the suburbs.
When not performing, cantoring at church, or arranging, she spends her days walking furry, four-legged canines, and staying at their houses while their owners are away. Her hobbies include bicycling, container gardening, softball, and buying and selling items on Ebay. Andrea holds a Bachelors of Music Education and Master's of Trumpet Performance degrees from DePaul University.
Karen Griffin
Jeanine Woodman
Rhythm
Jenny Yuhasz - Percussion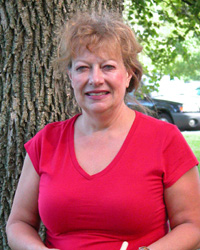 Cheryl Fort - Guitar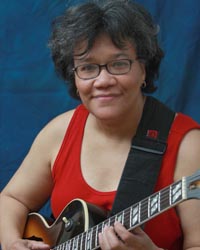 Cheryl began playing guitar while in high school studying classical guitar at the American Conservatory of Music. Several years ago, she developed an interest in jazz music and began studying off and on with a variety of musicians and teachers in the Chicago area, Bloom School of Jazz, Lee Metcalf, and Paul Kugot to name a few. She is currently studying privately with Mike Allemana at the Old Town School of Folk Music. She's played with a variety of jazz combos over the years. Her inspiration comes from the great jazz musicians past and present and a family history of musicians where she was exposed to jazz music at a very young age. She considers herself an advanced beginner.
Mary Zaborniak - Piano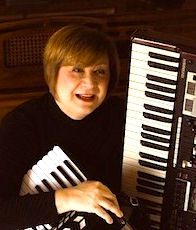 Mary grew up on the southwest side of Chicago and has played the accordion since age 7. When she was in fifth grade, she was encouraged to take organ lessons and subsequently became the church organist at age 12. During her young adult years, Mary performed in wedding and dance bands throughout the Chicago area, until she was hired by United Airlines as a flight attendant, where she has worked since and recently retired from. While working, she raised a family, and eventually forgot about music. Once a year she would sit at the piano to play Christmas carols, and think about returning to school. She eventually enrolled at College of DuPage, and is now completing coursework toward her Associate of Fine Arts in Music degree scheduled for December, 2015. Mary has a renewed passion for music, studying jazz piano improvisation with Frank Caruso, and enjoying her membership in the DuPage Jazz Ensemble under the direction of Dr. Tom Tallman. In addition to her piano accomplishments, she is versatile in mallet (vibraharp) and auxiliary percussion, Hammond organ, accordion, improvisation and transcription skills. Since her retirement, Mary is dedicated to providing the time and effort toward her craft of playing live music with the Chicago Outskirts.
Vocals
Leah Novak