About Us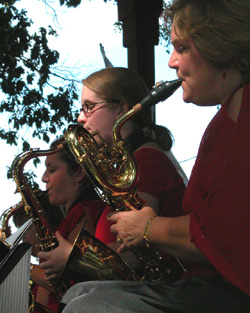 The Chicago Outskirts is a seventeen piece jazz ensemble comprised entirely of women from the Chicago area. Most of the members also play in other jazz groups in the area.
The idea for the band was born when two of the members met at FitzGerald's Night Club in Berwyn in March of 2003. Jenny Yuhasz, a drummer from South Bend, was there to see her brother, trumpeter Danny Barber, play with the Chicago Jazz Orchestra. Jenny sat in for a few numbers with the CJO. Linda Kottis, a tenor sax player from Naperville, was in the audience that night and began comparing notes with Jenny. They decided that an all-female big band would be a great idea. As of the next day, recruitment was underway. Fortunately, Linda and Jenny each had a separate network of female jazz musicians to call upon, and it was not long before the band was staffed.
The main purpose of forming the band was to give women jazz musicians in the area more opportunity to play big band jazz, both in rehearsal and in performance for public or private functions. But a valuable side benefit the group hopes to provide is encouragement to young women still in school who have a desire to pursue a vocation, or even a serious hobby, playing instrumental jazz.
The band had its first public appearance at an outdoor concert in Batavia in September, 2003 for the Batavia Railroad Depot Museum Sunday Concert Series. The Concert was featured on John Russell's show "Midwest Ballroom" on WDCB Public Radio. Since that time, the Band has performed at additional festivals in Oak Lawn, Batavia, Lombard, Cantigny, River Grove, the Rotary International Convention, and many others.
Among the venues where the band has performed are:
Batavia Railroad Depot Festival
Oak Lawn Park District Summer Concert Series
Hackney's in Palos Park
American Cancer Society Relay for Life
Rotary International Convention
River Grove Gazebo in the Park Summer Concert Series
Batavia Windmill Festival
FitzGeralds Night Club
Lombard Lilac Festival
Cantigny Park Sunday Summer Concert Series
Loretto Convent Community Open House
American Cancer Society Christmas Party and Dance
City of Highland Park Summer Concert Series
Schaumburg Township District Library Summer Concert Series